TWiM delivers all the Marvel info on comics, video games, toys, TV, film, and beyond! Hosted by Ryan "Agent M" Penagos, James Monroe Iglehart, and Lorraine Cink. Tweet your questions with #ThisWeekinMarvel or email twimpodcast@marvel.com.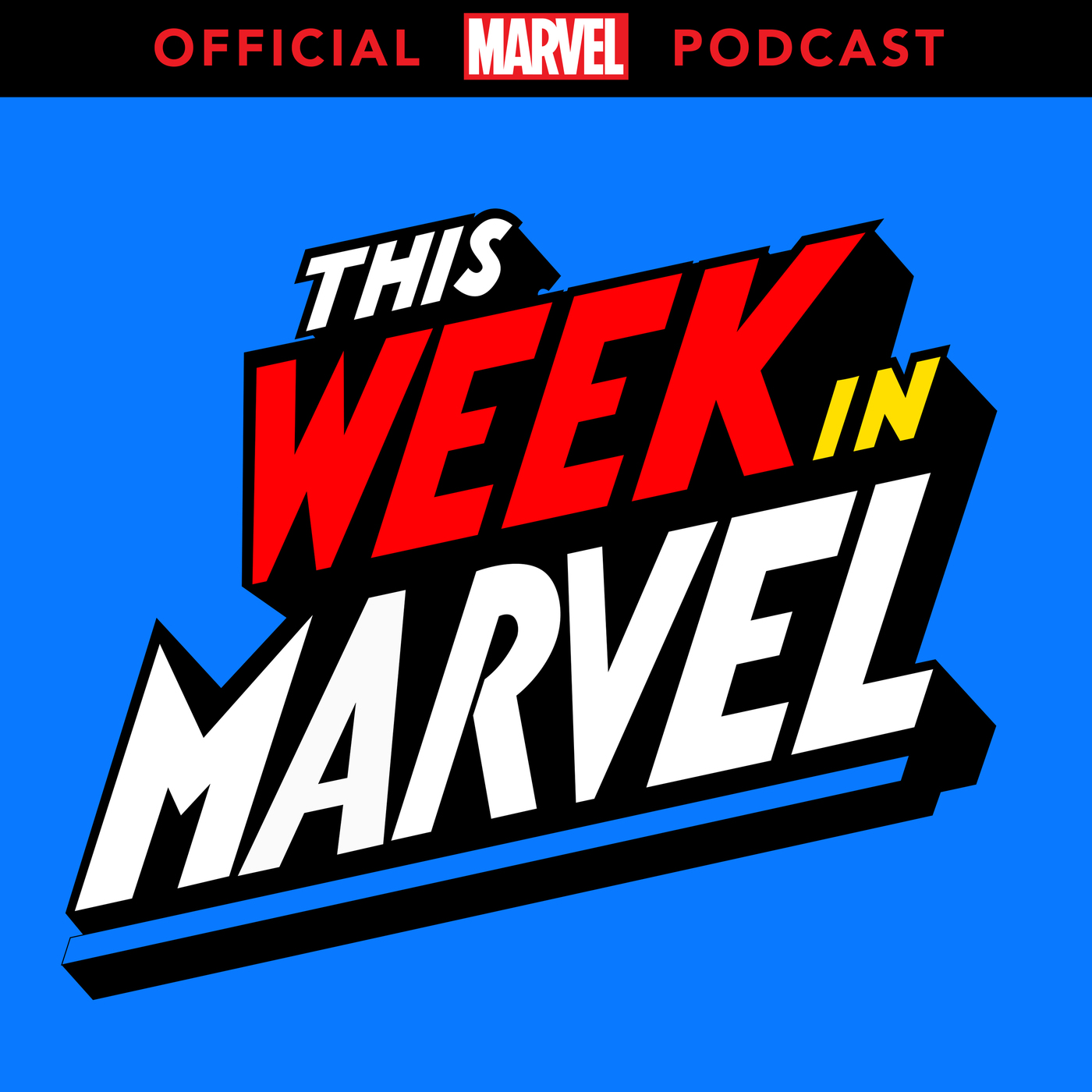 What is it like to meet your heroes and then join their team? Ms. Marvel and Sandra Saad both know the answer. Today, Lorraine sits down with Sandra Saad about what it was like to work with the star-studded cast of Marvel's Avengers video game, and how her experience mirrors that of her character, Kamala Khan, getting to meet Captain America, Thor, Iron Man, Hulk, and other Marvel greats.

And in more games excitement, Ryan and Lorraine break down the brand new gameplay demo released for Marvel's Spider-Man: Miles Morales!

1:07 – News

15:53 – Interview w/ Sandra Saad

42:28 – Community

Black Widow is back like you've never seen her before! Ryan sat down with Kelly Thompson to discuss the writer's unique approach to the character, and how her work on other titles like Captain Marvel and Deadpool have prepared her for this exciting new comic series.

Plus, Lorraine and James break down the latest Marvel news, including info. about the new event King in Black, as well as the trailer for the upcoming Amazing Spider-Man #850 featuring the Green Goblin!

Time Codes:

5:20 News

8:35 Interview

35:27 Community

Starting today, you can assemble your own team of Avengers from the comfort of home!

The release of Marvel's Avengers video game is finally upon us. The hosts took a quick break from non-stop gameplay to chat with Director of Production Eric Monacelli. Eric shares secrets from the making of this larger than life game that lets you connect with players around the world to bring together heroes like Captain America, Iron Man, Hulk, Black Widow and, front and center, Kamala Khan AKA Ms. Marvel! Have a pen handy in case Eric dishes on any gameplay tips and tricks…

And as always, Ryan, Lorraine, and James bring you up to date on the latest Marvel news, including the release of Fortnite variant covers, a new mobile game, and more!

Marvel is 81 years old!! Hosts Ryan, Lorraine, and James celebrate the company's 81st birthday by talking about…

Mighty Marvel Insider Mania

Artists like Jack Kirby and Joe Simon

Reveal of Marvel-Fortnite Crossover

Various heroes from Captain America to Runaways

Eighty-One Years of Stories!

Literally so many heroes…X-Men, Hulk, Daredevil, Thor…SO MANY HEROES!

Plus, hear from fans who wrote in to determine the best decade in Marvel history! Please join us in celebrating this very specific anniversary by wishing Marvel a very happy birthday!

Marvel characters are able to do feats of superhuman ability with the help of super powers, but our guest this week, youtuber Michelle Khare makes videos discovering how actors train to make these characters come to life. We talk to Michelle about how she learns to do stunts like Black Widow, Spider-Man, Daredevil, and more for her series MK Ultra.

Hosts Ryan and James also get hyped learning the comics news this week, they talk X of Swords Covers, the new Marvel's Voices: Indigenous Voices, and Eternals #1.

2:41 News

15:28 Michelle Khare Interview

39:23 Community

Marcus Parks talks about his love for The X-Men, how he got into podcasting, the origins of Last Podcast on the Left, and why Immortal Hulk is perfect for his listeners!

It's Stark Week and we give you some Iron Man comics available to read on Marvel Unlimited to celebrate! Then we talk about even more news including a new US Agent book, Wiccan and Hulkling getting married, and the MAOS finale, which the hosts wax nostalgic on.

0:52 News

14:50 Marcus Parks Interview

44:50 Community

Marvel's Agents of S.H.I.E.L.D. is coming to an end, but it promises to go out with a bang! Join Ryan and Lorraine as they chat with series star Elizabeth Henstridge, AKA Jemma Simmons, about all the twists and turns of Season 7, including Jemma's directorial debut! And for even more exclusive behind-the-scenes content, the hosts called up with VFX supervisor Mark Kolpack to talk about his experience creating the groundbreaking effects for the series. This is a CAN'T MISS episode for fans of the show!

2:46 - News

9:59 - Elizabeth Henstridge Interview

35:36 - Mark Kolpack Interview

58:31 - Community

*Read in announcer voice* Today, today, TODAY! Champion wrestler Xavier Woods brings the HEAT in the ultimate Marvel/wrestling podcast SHOWDOWN!!! Hear stories from the ring, and listen as hosts Ryan and James go toe to toe with the WWE superstar to determine once and for all if Gambit and Cyclops will live to see another day!!!!

Plus, Artist Skottie Young stops by for a chat about his exclusive designs for the brand new offering, Marvel Made!

3:25 - News

27:50 - Interview With Xavier Woods

1:03:23 - Community

The Empyre event is in full swing, and authors Chip Zdarsky and Anthony Oliveira have a fabulous offering: Lords of Empyre: Emperor Hulkling #1. Ryan and Lorraine talk with the authors about all the European history that went in to writing this super-sized one shot.

Our hosts also talk the new Marvel comics announced for October, missing San Diego Comic Con this year, and have on chef Justin Warner to talk about his new Eat the Universe merch and cookbook.

2:55 - News

25:27 – Interview with Chip Zdarsky and Anthony Oliveira

60:24 - Community

The Simpsons is the longest-running American sitcom, and over the years has tipped its hat to Marvel, another long standing American fiction. To learn more about The Simpsons' inner workings Ryan and Lorraine talk to longtime writer and producer Al Jean about his work on the show, his Marvel fandom, and how to the two coincide.

Ryan and Lorraine also delve into this week's news to talk about Marvel Made pins, Ultraman, and who will be the next big Avengers villain?

1:51 - News

10:52 - Al Jean Interview

42:43 - Community

When you think of Marvel, what is the first place that comes to mind? Though the answer will vary from fan to fan, many will no doubt answer New York City. From Spider-Man swinging across the Manhattan skyline, to the Fantastic Four's Headquarters in Midtown, to the real-life Marvel offices which have always touched the island metropolis, Marvel's DNA is tightly wound with New York's. Today, Ryan and Lorraine speak to Greg Young, host of The Bowery Boys podcast, about Marvel's storied history in the city that never sleeps.

Throw in some news, as well as a sneak peek from host of Marvel's Voices Angélique Roché at her upcoming interviews with Chris Claremont and Marlon James on the reprint of God Loves, Man Kills, and you've got yourself a jam-packed episode!

0:49 - News

17:47 - God Loves, Man Kills Spotlight

25:48 - Interview With Greg Young

60:24 - Community

Once upon a time you'd pop some coins in a Hulk-sized machine to live out the fantasy of fighting as the X-Men for just a few minutes. Today, you can put Iron Man's suit on for 8+ hours (though you should definitely take breaks) from the comfort of your own home. In this episode, Marvel's Iron Man VR director Ryan Payton joins Ryan and Lorraine to discuss the making of this incredible game.

Plus, thanks to a listener question, writers Alex Segura and Jan Michael Friedman are taking us where we've never gone before, as we look at Marvel's under-appreciated history of comics based on the only TV show that could have predicted such an amazing future: Star Trek!

0:42 - News

5:57 - Community

38:22 - Iron Man VR Interview w/ Ryan Payton

Sure, you may know everything there is to know about the Fantastic Four, but how about the The Kree? Or the infamous Skrull? EMPYRE writers Al Ewing and Dan Slott think they just might, so Ryan and Lorraine are here to test their knowledge. Along the way, they learn some tantalizing secrets about Marvel's upcoming series EMPYRE, an enormous comic event as big as the Marvel Universe itself: a comic event to end all comic events (don't worry there will probably be more).

Join us for this revealing interview, and don't forget to check out our most recent bonus episode on Marvel's Avengers War Table released this past Wednesday!

Marvel's Avengers War Table just went live! The War Table included amazing game footage from the upcoming video game Marvel's Avengers which is coming out this fall. In order to learn more about the plot, characters, and format of the game Ryan and Lorraine talk with Scot Amos, Head of Studio for Crystal Dynamics. They discuss how they decided on what characters to include and what they're looking forward to when they finally get to play Marvel's Avengers.

Lonely? Have you ever wished you could enjoy the companionship of a decapitated super hero shouting obscenities at you? Well now you can! The brand new, interactive Marvel Legends Deadpool's Head from Hasbro is now available, and Marvel Director of Product Development Jesse Falcon is here to give you the inside scoop on its creation. If you stick around, the Merc With A Mouth (and not much else) might drop by as well!

And, as always, catch up on the latest in Marvel news like the announcement of Spider-Man: Miles Morales, new comics, and much more!




TIMECODES:

3:01 News

25:28 Deadpool's Head

50:01 Community

Longtime MS.MARVEL writer and one of the co-creators of Kamala Khan, G. Willow Wilson has penned an all-new prose story in solidarity and celebration of essential workers everywhere and we were lucky enough to have her read it for us!

Today Ryan and Lorraine are joined by Marvel's Voices host Angeliqué Roché. The Marvel's Voices podcast tells the stories behind Marvel storytellers and Angeliqué came on to continue to elevate Black voices within our community. We share clips from previous seasons' interview with Jesse J Holland, author of the novel Black Panther: Who is the Black Panther?, TV and YouTube personality Franchesca Ramsey, Marvel comics writer Vita Ayala, and Jason Reynolds, who wrote Miles Morales: Spider-Man.

Not only can you listen to past Marvel's Voices episodes right now, but you can also read the eponymous comic book for FREE on Marvel Unlimited.

Time Codes:

2:18 – Jesse J Holland

12:30 – Franchesca Ramsey

19:16 – Vita Ayala

26:55 – Jason Reynolds

38:35 – Free MU Books

First and foremost, This Week In Marvel would like to acknowledge the current state of unrest in the United States, and to express our commitment to solidarity with the Black community.

In addition to the latest Marvel news, this week's episode features a statement of support from Ryan, Lorraine, and James, an honest conversation with rapper/actor Utkarsh Ambudkar, and hope for the future as the hosts discuss the Marvel women of color heroes who inspire them.

There are many resources to read, watch, and listen that educate about racism and advocacy. Below are suggestions provided by Ryan, Lorraine, and James for organizations to support and further listening:




Organizations:

My Brother's Keeper Alliance: https://www.obama.org/donate/

The Pan African Film Festival: https://www.paff.org/donate/

Unidos US: https://www.unidosus.org/ways-to-give/form?utm_source=homepage-unidosus&utm_medium=header-desktop&utm_campaign=institutional




Podcasts:

Seeing White: https://www.sceneonradio.org/seeing-white/

United States of Anxiety: https://www.wnycstudios.org/podcasts/anxiety

Agent Phil Coulson is the glue that holds the Avengers together. Now, a major chapter in the character's story comes to a close with the premiere of the final season of Marvel's Agents of S.H.I.E.L.D. In this episode, Actor Clark Gregg joins Ryan to reflect on the character's impressive legacy, spanning from Iron Man to Endgame and beyond.

Plus, as always, Ryan and Lorraine relay the latest Marvel news, including the triumphant return of comics!

1:57 - News

15:56 - Clark Gregg

29:10 - Community

Jean Grey vs Iron Man. Storm vs Thor. Who would you pick? And if Sophia Petrillo from The Golden Girls were a Marvel hero, who would she be? Between Marvel Battle Royale 2020 taking over social media, and Ryan + Lorraine's 2020 Golden Girls-Marvel Mashup™ tearing friendships apart, this week is full of tough decisions.

Thankfully, King Deadpool of Monster (formerly Staten) Island is on the case to answer life's toughest questions, as editor Jake Thomas reads officially sanctioned responses from the Merc With A Mouth to his loyal subjects.

04:38 News

18:45 Jake Thomas Deadpool Letters

35:27 Community

July 3rd turns out to be an auspicious day! Iron Man VR comes out and the musical Hamilton is being released on Disney +. Ryan, Lorraine, and James also celebrate the announcement of a new comic book, MAESTRO, coming in August as well as some exciting digital releases.

Then James and Ryan invite their friend and Broadway star Nik Walker on to talk about his Marvel fandom and how he got the Hamilton orchestra to play the Avengers theme on his last day as part of the cast.

News 1:04
Community 16:23
Nik Walker intv 23:12




True believers, rejoice: Marvel Comics is back! Beginning May 27th with brand new issues of the Avengers, Doctor Aphra, and more, Marvel will resume Wednesday releases for new comics and collections. And with new soundtrack releases, new Disney+ content, and a Kids' Choice Award for Marvel Studios Avengers: Endgame to boot, Ryan and Lorraine have a monsoon of Marvel madness to discuss!

Plus, a brief halt in new comics releases hasn't stopped fans from reading…or writing! That's why Amazing Spider-Man Editor Nick Lowe joins us to read and respond to some of the incredible letters we've received from fans over the past few weeks. 'Nuff said!




3:15 News

19:46 Community

25:23 Nick Lowe reads Spider-Man Fan Letters

From Marvel Studios' 'Black Panther 2' to 'Thor: Love and Thunder,' as well as THREE more MCU titles, 2022 is going to be a whirlwind! So listen up because Ryan and Lorraine have got the details on every upcoming film and TV release from Marvel Studios! Plus, with May 4th just around the corner, we of course have to sneak in a little bit of Star Wars talk. Then, editor Danny Khazem shares how he got his very first comic book autographed by Spider-Man himself!

0:39 - News

14:50 - May the 4th Be With You

21:02 - Community

26:21 - Interview with Danny Khazem

Without Chris Claremont, there is no X-Men. Or, at the very least, the X-Men would hardly be the phenomenon they are today. In this episode, Ryan and Lorraine sit down with the writer to discuss his life and how his pioneering work on X-Men and other stories shaped comics for generations to come.

Plus, as always, we bring you the latest Marvel news, including the title reveal and new release date for Venom 2!




News - 0:37

Chris Claremont Interview - 19:08

Community - 56:31

Hilarious, fun, and full of great stories, Preeti Chhibber is the author of Spider-Man: Far From Home: Peter and Ned's Ultimate Travel Journal and the upcoming Marvel Avengers Assembly #1. Listen as she takes us back to the first time she met Ryan, a story that includes making realizations about Tom Holland's height and embarrassing herself in front of Jake Gyllenhaal.

Plus, get caught up on all the latest Marvel news, like a release date for the final season of Marvel's Agents of S.H.I.E.L.D., and Marvel's participation in World Art Day!