Hosted by Ryan "Agent M" Penagos, Lorraine Cink, and James Monroe Iglehart, This Week in Marvel is the inside access to all the latest Marvel comics, TV, movies, games, toys, and beyond! Tweet your questions with #ThisWeekinMarvel or email twimpodcast@marvel.com.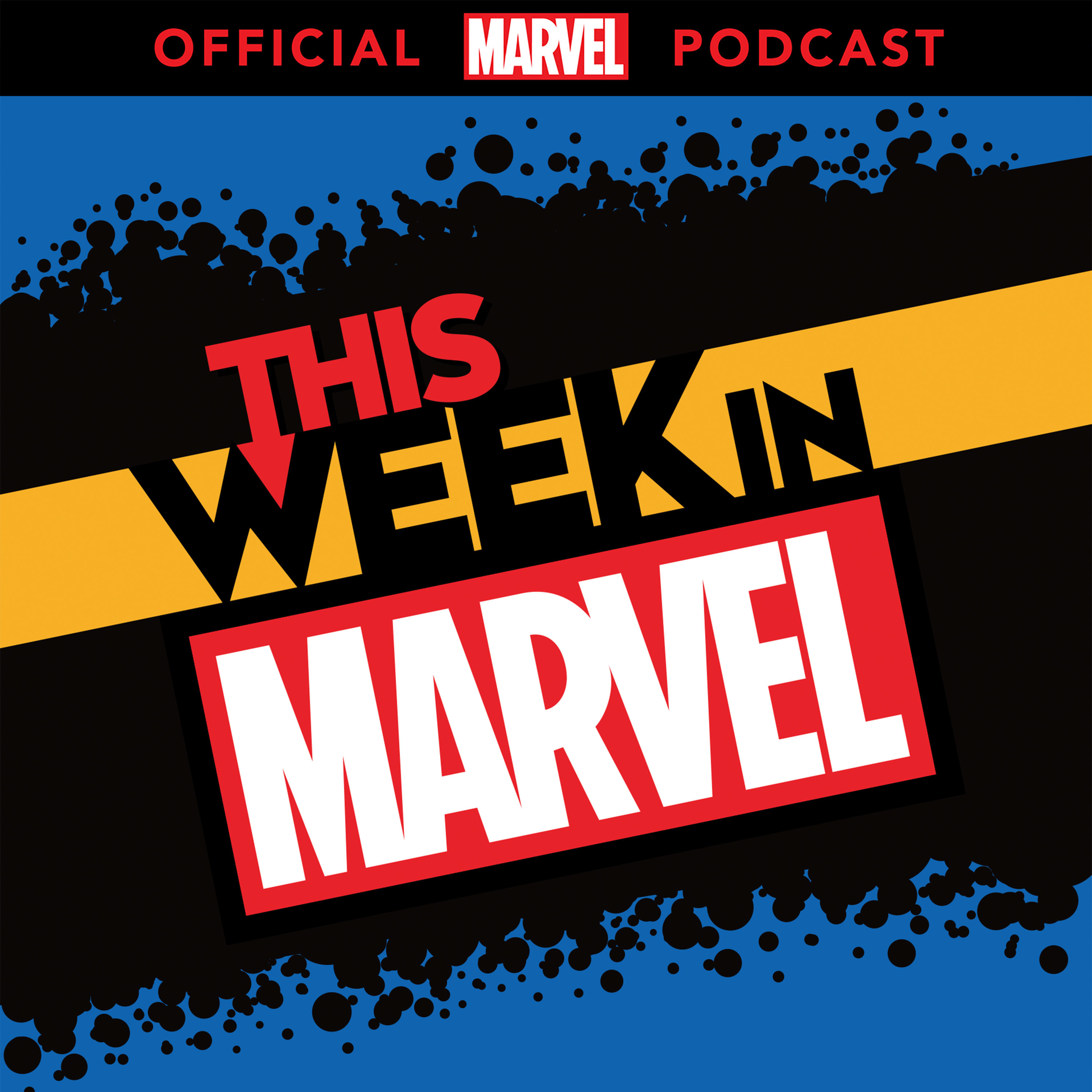 'Tis the season when DARKNESS REIGNS! As the Venom saga reaches its definitive chapter, Ryan and Lorraine are kicking off the holidays by chatting with comic creators Donny Cates, Devin Lewis, and Ryan Stegman about the making of the pivotal event.

Leaving room for a bit of jolly holly, the hosts also share some of their favorite items from our 2020 holiday gift guide! And, as always, we've got the latest news, including Galactus in Fortnite and the trailer for Marvel's Declassified podcast. Plus we've even got a short appearance by X-Men writer Chris Claremont, who offers an inside look at the Days of Future Past prequel story, Prelude to a Future Past!

Without Japanese Spider-Man, there is no Power Rangers, no Ultraman. So goodbye Peter Parker and hello Takuya Yamashiro! In celebration of Marvel's 616, the brand new Disney+ documentary series, Ryan and Lorraine spoke to Executive Producer David Gelb, who directed the first episode of the show, which traces the history of the legendary 1970s Japanese Spider-Man TV series.

We've also got the latest on Kate Bishop joining Marvel's Avengers video game, new shows on Sirius XM, the Venom outfit in Fortnite, and much more!

In this special Sirius XM premiere, we take a look back at some of our favorite moments in This Week in Marvel history. Join your hosts, Ryan Penagos, Lorraine Cink, and James Monroe Iglehart, as they deliver all the Marvel info on comics, video games, toys, TV, film, and beyond!




Timecodes:

2:00 News

20:10 Clark Gregg

31:31 Into the Spider-Verse

43:44 Preeti Chhibber

52:49 Fortnite

57:13 Community




Question of the week:

What is your favorite or best Mech suit in the Marvel Universe?

Here comes Spider-Cat! Marvel's Spider-Man: Miles Morales is out and we have the three main writers, Evan Narcisse, Mary Kenney, Ben Arfmann on the show to talk about all the work that goes into writing a video game. The excitement doesn't stop there, because the Disney + release date for Marvel Studios' WandaVision has been announced, and Ryan, Lorraine, and James are pumped to watch it next year.

Timecodes:

2:24 News

16:09 Interview

48:03 Community

Question of the week:

Who do you want to be a guest on future episodes of This Week in Marvel?
What have been some favorite moments of the past year of This Week in Marvel?

In celebration of Native American Heritage Month this November, we are bringing you an interview with Werewolf By Night writers Taboo (yes, the Taboo from Black Eyed Peas) and B. Earl about Marvel's newest Indigenous hero!

We've also got the scoop on the suit inspired by Spider-Man: Into The Spiderverse coming to the Spider-Man: Miles Morales video game, as well as updates on Marvel Studios Shang-Chi and the Legend of the Ten Rings! What a week!

It's Halloween weekend, so it's time to get spooky! First some news- Marvel Made is back with a limited-edition Chris Claremont collection, a Lucha Libre collaboration, and a way to own your favorite props and costumes from Marvel's Agents Of S.H.I.E.L.D!

Then Ryan, James, and Lorraine tell spooky Marvel stories to each other that were found in the 1950's Strange Tales prose stories. Check out these issues yourself on Marvel Unlimited, Marvel's premier digital comics subscription service for instant access to over 27,000 Marvel digital comics.

James – I am a Vampire (Strange Tales #17)

Lorraine – DEATH! (Strange Tales #1)

Ryan – The Smile of Mrs. Orko (Strange Tales #30)

Worlds collide! The Marvel universe has officially joined Fortnite! Ryan spoke to Donald Mustard, Worldwide Creative Director for Epic Games, about his lifelong passion for Marvel, his work with Thor writer Donny Cates, and the process of bringing Marvel into the world of Fortnite.

Ryan and Lorraine also share exciting news about how you can now get your comics even sooner on Marvel Unlimited, a baby-proof Black Widow book, and a slew of new comics featuring the Hulk, Ms. Marvel, and more!

0:54 - News

8:34- Interview w/ Donald Mustard of Epic Games

42:07 - Community

Slipknot's Corey Taylor is a hardcore Marvel fan, so we of course had to talk to him. Taylor spoke to Ryan about his lifelong love of Marvel and how great storytelling, from comics to wrestling, have stayed with him throughout his journey as a musician.

Ryan and Lorraine also deliver all the latest news, including a first look at new comics you can expect to hit shelves at the beginning of 2021! And while James couldn't join us this week, you can catch him doing other awesome stuff, including announcing the Tony nominations and spearheading a Nightmare Before Christmas benefit concert!

8:00 - News

16:34 - Interview w/ Corey Taylor from Slipknot

46:34 - Community

From new Star Wars and Black Widow variant covers to Marvel's M.O.D.O.K. TV series, Ryan and Lorraine share all the latest news from NYCC 2020. Then, Rise of Ultraman writers Kyle Higgins and Mat Groom join the hosts for a conversation about the brand new comic, and the history of the unique bond between Marvel and the world of tokusatsu. Between M.O.D.O.K. and Ultraman, will Ryan be able to contain his excitement? Or will he build up so much energy that he causes a rift in the space-time continuum, altering the universe as we know it? Guess you'll just have to listen to find out.

3:45 - News

12:51- Stormbreakers chat w/ Rickey Purdin

24:34 - Ultraman interview w/ Kyle Higgins and Mat Groom

53:18 - Community

Shang-Chi has returned and he's armed with forceful fists and mouthwatering crystal cakes! Ryan and Lorraine called the writer of the acclaimed graphic novel "American Born Chinese" and now Shang-Chi #1, Gene Luen Yang, to talk about the brand new comic series. Gene talked about everything from the making of the series to his first foray into comics, "Trans-Smurfers," the harrowing story of Smurfs with the ability to transform into robotic fruit.

We've also got the latest info. on Marvel's Spider-Man: Miles Morales, the brand new Disney+ series Marvel's 616, and much, much more!

These are not your grandparents' X-Men. In X of Swords, the X-Men meet high fantasy! Lorraine and Ryan spoke to writer Tini Howard and artist Pepe Larraz about how they brought Tarot cards, dragons and, of course, swords into the explosive new X-Men comic series.

We've also got a new WandaVision trailer, a new release date for Marvel Studios Black Widow, and much more!

1:55 - News

10:59 - Interview with Tini Howard and Pepe Larraz

45:49 - Community

What is it like to meet your heroes and then join their team? Ms. Marvel and Sandra Saad both know the answer. Today, Lorraine sits down with Sandra Saad about what it was like to work with the star-studded cast of Marvel's Avengers video game, and how her experience mirrors that of her character, Kamala Khan, getting to meet Captain America, Thor, Iron Man, Hulk, and other Marvel greats.

And in more games excitement, Ryan and Lorraine break down the brand new gameplay demo released for Marvel's Spider-Man: Miles Morales!

1:07 – News

15:53 – Interview w/ Sandra Saad

42:28 – Community

Black Widow is back like you've never seen her before! Ryan sat down with Kelly Thompson to discuss the writer's unique approach to the character, and how her work on other titles like Captain Marvel and Deadpool have prepared her for this exciting new comic series.

Plus, Lorraine and James break down the latest Marvel news, including info. about the new event King in Black, as well as the trailer for the upcoming Amazing Spider-Man #850 featuring the Green Goblin!

Time Codes:

5:20 News

8:35 Interview

35:27 Community

Starting today, you can assemble your own team of Avengers from the comfort of home!

The release of Marvel's Avengers video game is finally upon us. The hosts took a quick break from non-stop gameplay to chat with Director of Production Eric Monacelli. Eric shares secrets from the making of this larger than life game that lets you connect with players around the world to bring together heroes like Captain America, Iron Man, Hulk, Black Widow and, front and center, Kamala Khan AKA Ms. Marvel! Have a pen handy in case Eric dishes on any gameplay tips and tricks…

And as always, Ryan, Lorraine, and James bring you up to date on the latest Marvel news, including the release of Fortnite variant covers, a new mobile game, and more!

Marvel is 81 years old!! Hosts Ryan, Lorraine, and James celebrate the company's 81st birthday by talking about…

Mighty Marvel Insider Mania

Artists like Jack Kirby and Joe Simon

Reveal of Marvel-Fortnite Crossover

Various heroes from Captain America to Runaways

Eighty-One Years of Stories!

Literally so many heroes…X-Men, Hulk, Daredevil, Thor…SO MANY HEROES!

Plus, hear from fans who wrote in to determine the best decade in Marvel history! Please join us in celebrating this very specific anniversary by wishing Marvel a very happy birthday!

Marvel characters are able to do feats of superhuman ability with the help of super powers, but our guest this week, youtuber Michelle Khare makes videos discovering how actors train to make these characters come to life. We talk to Michelle about how she learns to do stunts like Black Widow, Spider-Man, Daredevil, and more for her series MK Ultra.

Hosts Ryan and James also get hyped learning the comics news this week, they talk X of Swords Covers, the new Marvel's Voices: Indigenous Voices, and Eternals #1.

2:41 News

15:28 Michelle Khare Interview

39:23 Community

Marcus Parks talks about his love for The X-Men, how he got into podcasting, the origins of Last Podcast on the Left, and why Immortal Hulk is perfect for his listeners!

It's Stark Week and we give you some Iron Man comics available to read on Marvel Unlimited to celebrate! Then we talk about even more news including a new US Agent book, Wiccan and Hulkling getting married, and the MAOS finale, which the hosts wax nostalgic on.

0:52 News

14:50 Marcus Parks Interview

44:50 Community

Marvel's Agents of S.H.I.E.L.D. is coming to an end, but it promises to go out with a bang! Join Ryan and Lorraine as they chat with series star Elizabeth Henstridge, AKA Jemma Simmons, about all the twists and turns of Season 7, including Jemma's directorial debut! And for even more exclusive behind-the-scenes content, the hosts called up with VFX supervisor Mark Kolpack to talk about his experience creating the groundbreaking effects for the series. This is a CAN'T MISS episode for fans of the show!

2:46 - News

9:59 - Elizabeth Henstridge Interview

35:36 - Mark Kolpack Interview

58:31 - Community

*Read in announcer voice* Today, today, TODAY! Champion wrestler Xavier Woods brings the HEAT in the ultimate Marvel/wrestling podcast SHOWDOWN!!! Hear stories from the ring, and listen as hosts Ryan and James go toe to toe with the WWE superstar to determine once and for all if Gambit and Cyclops will live to see another day!!!!

Plus, Artist Skottie Young stops by for a chat about his exclusive designs for the brand new offering, Marvel Made!

3:25 - News

27:50 - Interview With Xavier Woods

1:03:23 - Community

The Empyre event is in full swing, and authors Chip Zdarsky and Anthony Oliveira have a fabulous offering: Lords of Empyre: Emperor Hulkling #1. Ryan and Lorraine talk with the authors about all the European history that went in to writing this super-sized one shot.

Our hosts also talk the new Marvel comics announced for October, missing San Diego Comic Con this year, and have on chef Justin Warner to talk about his new Eat the Universe merch and cookbook.

2:55 - News

25:27 – Interview with Chip Zdarsky and Anthony Oliveira

60:24 - Community

The Simpsons is the longest-running American sitcom, and over the years has tipped its hat to Marvel, another long standing American fiction. To learn more about The Simpsons' inner workings Ryan and Lorraine talk to longtime writer and producer Al Jean about his work on the show, his Marvel fandom, and how to the two coincide.

Ryan and Lorraine also delve into this week's news to talk about Marvel Made pins, Ultraman, and who will be the next big Avengers villain?

1:51 - News

10:52 - Al Jean Interview

42:43 - Community

When you think of Marvel, what is the first place that comes to mind? Though the answer will vary from fan to fan, many will no doubt answer New York City. From Spider-Man swinging across the Manhattan skyline, to the Fantastic Four's Headquarters in Midtown, to the real-life Marvel offices which have always touched the island metropolis, Marvel's DNA is tightly wound with New York's. Today, Ryan and Lorraine speak to Greg Young, host of The Bowery Boys podcast, about Marvel's storied history in the city that never sleeps.

Throw in some news, as well as a sneak peek from host of Marvel's Voices Angélique Roché at her upcoming interviews with Chris Claremont and Marlon James on the reprint of God Loves, Man Kills, and you've got yourself a jam-packed episode!

0:49 - News

17:47 - God Loves, Man Kills Spotlight

25:48 - Interview With Greg Young

60:24 - Community

Once upon a time you'd pop some coins in a Hulk-sized machine to live out the fantasy of fighting as the X-Men for just a few minutes. Today, you can put Iron Man's suit on for 8+ hours (though you should definitely take breaks) from the comfort of your own home. In this episode, Marvel's Iron Man VR director Ryan Payton joins Ryan and Lorraine to discuss the making of this incredible game.

Plus, thanks to a listener question, writers Alex Segura and Jan Michael Friedman are taking us where we've never gone before, as we look at Marvel's under-appreciated history of comics based on the only TV show that could have predicted such an amazing future: Star Trek!

0:42 - News

5:57 - Community

38:22 - Iron Man VR Interview w/ Ryan Payton

Sure, you may know everything there is to know about the Fantastic Four, but how about the The Kree? Or the infamous Skrull? EMPYRE writers Al Ewing and Dan Slott think they just might, so Ryan and Lorraine are here to test their knowledge. Along the way, they learn some tantalizing secrets about Marvel's upcoming series EMPYRE, an enormous comic event as big as the Marvel Universe itself: a comic event to end all comic events (don't worry there will probably be more).

Join us for this revealing interview, and don't forget to check out our most recent bonus episode on Marvel's Avengers War Table released this past Wednesday!

Marvel's Avengers War Table just went live! The War Table included amazing game footage from the upcoming video game Marvel's Avengers which is coming out this fall. In order to learn more about the plot, characters, and format of the game Ryan and Lorraine talk with Scot Amos, Head of Studio for Crystal Dynamics. They discuss how they decided on what characters to include and what they're looking forward to when they finally get to play Marvel's Avengers.